Speed Limits & Traffic Signs
Speed Limits & Traffic Signs
Speed Limit Laws
The California Vehicle Code (CVC) is the state law that dictates the methodology for setting speed limits. The CVC requires speed limits be set based on the 85th percentile, which is the speed at which 85 percent of drivers are currently driving. Once speed limits are determined through engineering studies, they are presented to the City Council for adoption and inclusion in the City's municipal code. This provides the City with additional traffic enforcement tools, and helps increase traffic safety. The City periodically performs traffic engineering studies, including speed limit surveys, to ensure speed limits are compliant with CVC requirements.
These efforts support the City's commitment is to improve overall traffic safety on Citrus Heights roadways through utilizing the 4Es: Education, Enforcement, Engineering, and Encouragement.
How are speed limits decided?
Most residents know that there are certain prima facie speed limits established by California law, including the 25 MPH speed limit in residential neighborhoods, and the 25 MPH limit in school zones when children are present. However, understanding how speed limits are determined on other roadways is not as universally understood.
California law, primarily housed within the CVC, requires speed limits be set based on Engineering and Traffic Surveys, with some exceptions such as residential roadways, alley ways, and school zones as noted above. The CVC requires speed limits be set near the 85th percentile speed
The 85th percentile speed is the speed at which 85 percent of drivers are currently traveling at or below. There following parameters are required when determining the 85th percentile:
Actual speeds at which drivers are currently traveling on the roadway are measured to calculate the 85th percentile speed.
All data for recommended changes was collected during normal operations (before COVID).
City staff have very little leeway to adjust the recommended posted speed limit from the measured 85 percentile speed.
Traffic engineers can reduce posted limits by a 5 mph maximum, if justified by certain roadway conditions such as crash history, driveway density, as well as pedestrian and bike activity.
The Citrus Heights City Engineer continues to recommend the lowest posted speed limits allowable under the current State requirements and law.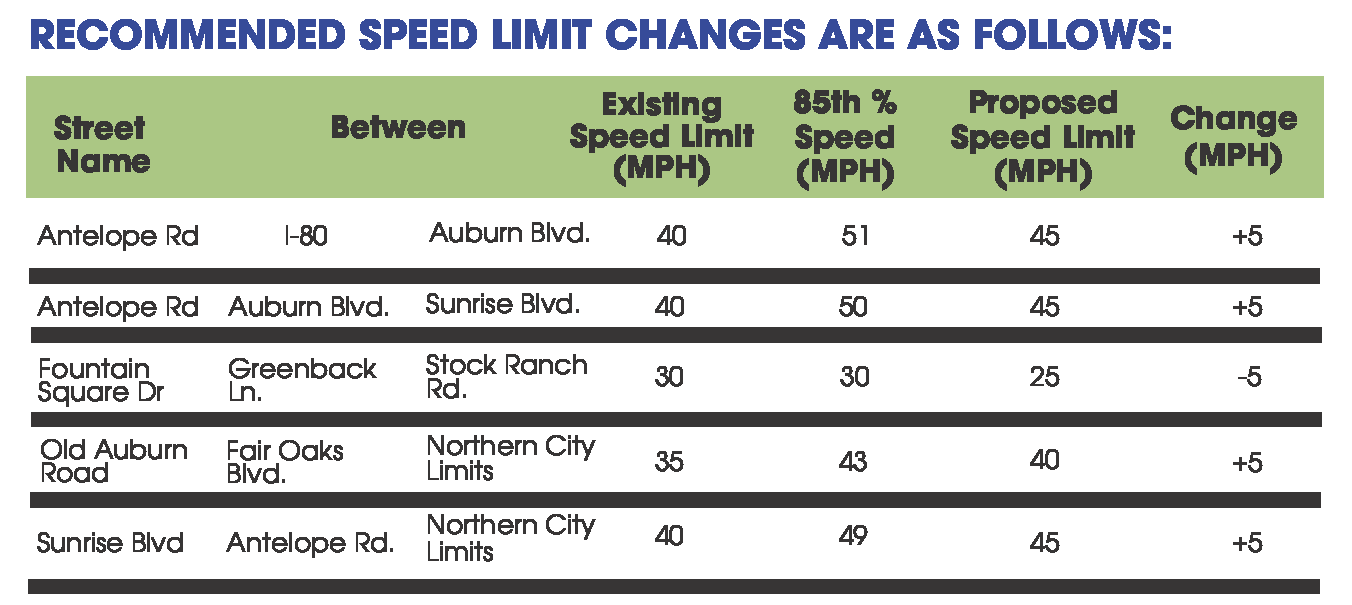 The table above shows new speed limits effective December 14, 2020.
Do increased speed limits increase the speed people drive?
The posted speed limit updates implemented in December 2020 reflect the speed at which the majority of drivers currently feel comfortable traveling on these roadways. It is important to note that even though there are posted speed limit increases on some roadways throughout the city, traffic enforcement and education efforts will continue, and the overall speeds are not anticipated to increase.
As noted above, residential streets are subject to the 25 MPH prima facie speed limit requirements established by California law. If you are concerned about speeding in your neighborhood, please see the flyer entitled "concerned about speeding on your roadway" and stay tuned for more information about the city's newly adopted Multi Modal Transportation Safety Program (MMTSP) which will be formally launched in spring 2021.
Please do your part and look out for each other – walk, drive, and bike safely!