Public Art
Public Art promotes the arts and beautifies the City. Citrus Heights currently houses two publically funded pieces of art including:
Celebrate Citrus Heights statue by Philip Sciortino located in front of the Community Center on Fountain Square Drive

Up and Away statue by Colin Lambert located on Greenback Lane between Park Oaks Drive and Van Maren Lane
Celebrate Citrus Heights Statue
When the City decided to embark upon constructing its own Community Center, it was decided that an art piece recognizing the City's history should be installed on the grounds.
Celebrate Citrus Heights
by
Philip Sciortino
, pays homage to some memorable moments from the City's past in bronze and granite.
The celebration banner begins with a depiction of early settlers who established their ranches in the late 1850s along Old Auburn Road. The next image is that of the Central Pacific Railroad, which was built in 1863 and brought an influx of settlers and increased exportation of agricultural crops by local farmers.The banner also pays homage to Sylvan School which was built in 1862 and quickly became the main community gathering site for parties, church services, and daily classes. The banner continues with an image of the Citrus Heights women firefighters who served the community during World War II. At the top of the banner, Sciortino sculpted the city's logo to represent the battle for incorporation which was successfully approved by voters in November 1996.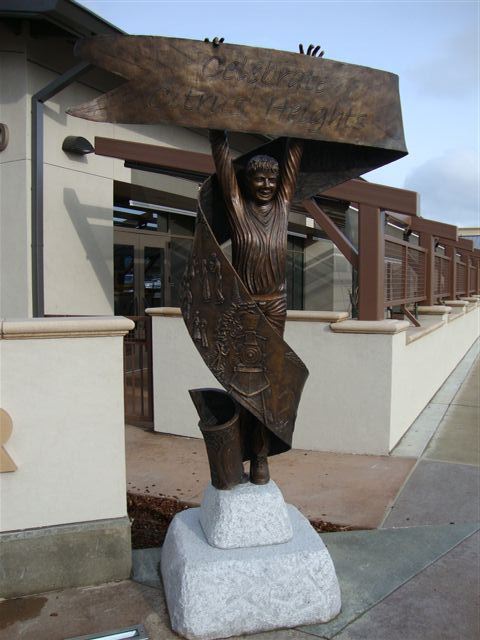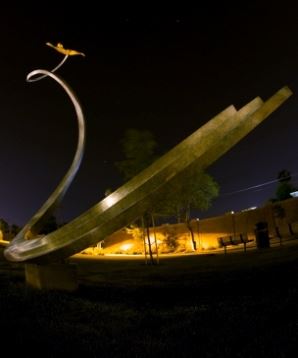 Up and Away Statue
The first piece of public art acquired by the City is,
Up and Away,
by artist
Colin Lambert
. The piece is located between Parkoaks Drive and Van Maren Lane on vacant land obtained as part of the Greenback Lane Widening Project. The piece now serves as a landmark sculpture for the City of Citrus Heights and those traveling down Greenback Lane.
The spiral bronze movement trail was constructed using bronze sheets built over a steel internal skeleton and now stands 18 feet high. At its tip the piece holds aloft a 4.5-foot gold gilded carbon fiber oak leaf which rocks and sways in the wind.
Creating a Public Art Piece
Up and Away was constructed at
Frostad Atelier
, a local foundry.
City Council members
,
History and Arts Commission members
, and city staff visited the foundry to see the piece in progress.