Low Impact Development
Environmental Sustainability
The City of Citrus Heights is committed to environmental sustainability. As part of that commitment, the city encourages low-impact development (LID) projects. As more land is being converted into impervious surfaces, it is important to consider the effects of construction and land development on water resources. According to the United States Environmental Protection Agency (U.S. EPA), the effects of urbanization on water resources include: degraded habitat, incised channels, impaired aquatic life, high pollutant loads, depleted and contaminated groundwater and higher incidence of flooding, among others. In order to minimize the effects of development and redevelopment, it is important to implement LID principles.
What is Low Impact Development (LID)?
LID is a method of land development that mimics and works with nature to manage stormwater as close to its source as possible. The land-use technique focuses on absorption and filtration of rainwater before it enters into the storm drain system or creek network. To meet that goal, LID projects may incorporate the following practices:
Bioretention facilities
Infiltration swales and strips (pictured right)
Rain gardens
Vegetated rooftops
Rain barrels
Permeable pavement
LID concepts can be applied to new development, redevelopment, or as retrofits to existing development.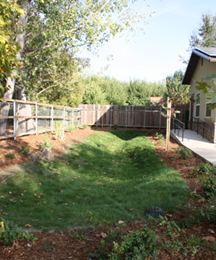 LID Demonstration Projects
The city has incorporated LID concepts in 3 demonstration projects: the Citrus Heights Children and Youth Center (7836 Sayonara Drive), the Sylvan Community Center (7521 Community Drive), and the Citrus Heights Green Parking Lot Demonstration and Monitoring Project (6315 Fountain Square Drive).
The Citrus Heights Children and Youth Center (pictured right) was constructed to house the Sayonara After-School Program, a program that serves over 100 at-risk children and their families daily. The Sylvan Center was built as a low-cost alternative for community members to rent for meetings and events.
The Green Parking Lot Demonstration and Monitoring Project is currently underway in the Civic Center Complex. Funded in part by the State Water Resources Control Board (SWRCB), the project includes the installation of LID features including 900 lineal feat of bio-swales, 2 rain gardens, and approximately one acre of pervious pavement. In addition, the city is monitoring the water runoff at the project site to determine the effect of the implementation of LID features on water quality.
The 3 community centers include LID concepts such as permeable asphalt, rain gardens, bio-swales and infiltration planters. In addition, the demonstration sites have educational signage to describe each of the techniques employed. For more information about LID, visit the U.S. EPA website.