Transit Services
Effective January 1, 2019, Citrus Heights is a member of the Sacramento Regional Transit District (SacRT). Route, schedule, and fare information can be found at the RT website.
SacRT FORWARD launched new route realignments in September 2019. SacRT provides regional bus service, as well as local community bus circulators including SmaRT Ride for all riders, and Paratransit shuttles for qualifying residents. There are two transit centers in or near the City: the Sunrise Mall Transit Center Greenback Lane and Arcadia Drive and the Louis-Orlando Transit Center just across the northern city limits off Riverside Avenue. The Louis-Orlando Transit Center serves Roseville and Citrus Heights, providing connections to Roseville Transit and Placer County Transit lines, as well as an express bus Rte 103, that takes riders to the SacRT Watt & I-80 Light Rail station.
Bus passes are available for purchase at City Hall as well as other SacRT fare outlets.
Bus Routes & Commuting
For Citrus Heights specific routes, visit the SacRT webpage: SacRT
View route changes on the SacRT Forward Networks
For more information on commuting see SacRegion511
Ride and Read on the New Sacramento Rolling Library Train!
The Sacramento Regional Transit District (SacRT) and the Sacramento Public Library launched Sacramento's first Rolling Library Train during an event at the Cosumnes River College Station. The brightly decorated train promotes riding and reading. This is also the first time the interior of a SacRT light rail train has been completely reimagined.
Riders can sit back, relax and read a book while Sacramento's new rolling Library Train takes them to their destination.
Would you like to see what the Library Train looks like?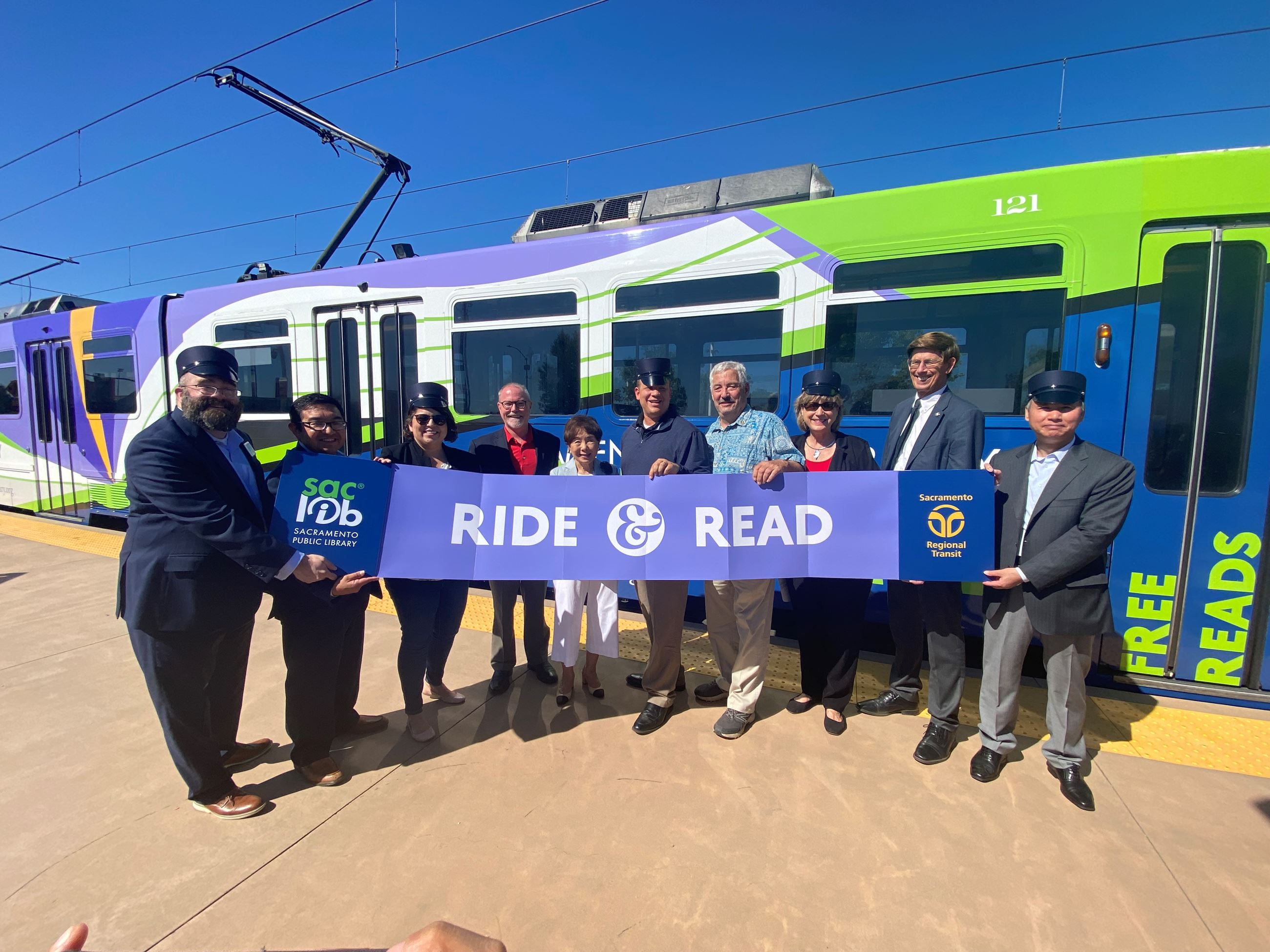 Citrus Heights has SmaRT Ride!
Did you know SmaRT Ride now connects to nine service areas? Curb-to-curb service is available in Citrus Heights-Antelope-Orangevale and Fair Oaks. Corner-to-corner service is available in Arden-Carmichael, Downtown-Midtown-East Sacramento, Elk Grove, Florin-Gerber, Folsom, Franklin-South Sacramento, Natomas-North Sacramento, and Rancho Cordova. Service connects to the Folsom Historic Light Rail Station and expanded service hours for the Gold Line allows riders to access Downtown Sacramento until midnight Monday through Saturday and until 9 PM on Sundays. Read more here...
Riders who don't use Smart phones may call 916-556-0100 direct to schedule same day service.
Title VI
The City adopted its Title VI Program (PDF) on June 24, 2021.
For questions, please contact the City's Title VI Coordinator, Amy Van, at (916) 725-2448. TDD users with questions or comments, please call the California Relay Service TDD Access Number (800) 735-2922.
Contact
If you have any feedback on the City's transit services or would like to request different / additional bus routes, please call Regional Transit at 916-321-BUSS (2877).
Page last updated August 31, 2022.