Encroachment Permits
Requirements & Fees
Encroachment permits are required any time work is being performed in the public right-of-way, or if the work will affect the right-of-way, such as installing a new driveway. Fees vary depending on the type of permit needed and how extensive the work is. The fees are collected solely to cover the cost of staff administrative and inspection time associated with the specific permit. A deposit is required to issue an encroachment permit; any unused funds will be returned to the applicant upon project completion with a successful final city inspection.
Applications
Traffic control plans (if applicable) and conceptual plans must be submitted with each encroachment permit application, along with proof of insurance. To apply for a permit, please complete the 2019 Encroachment Permit Application (PDF) and return to the General Services Department via email to Encroachment Permits, or return it to us in person or by mail.

For contractors or utilities with active permits: job lists or cut sheets and associated traffic control plans can be entered onto our Work Request Form (PDF) and submitted via email to Encroachment Permits.
***HOLIDAY MORATORIUM***
To better control the holiday traffic and increase driver and pedestrian safety through the holiday season, the City of Citrus Heights limits construction in the right-of-way on major streets.
The City's Construction Moratorium will be in effect from 5:00 pm on Friday, November 22, 2019 until 8:00 am on Thursday, January 2, 2020. The Moratorium applies to all construction and utility work and all oversize loads requiring a transportation permit.
The streets included in this moratorium are as follows:
| | |
| --- | --- |
| Antelope Road | Old Auburn Road |
| Auburn Boulevard | San Juan Avenue |
| Dewey Drive | Sunrise Boulevard |
| Fair Oaks Boulevard | Sylvan Road |
| Greenback Lane | Van Maren Lane |
| Madison Avenue | |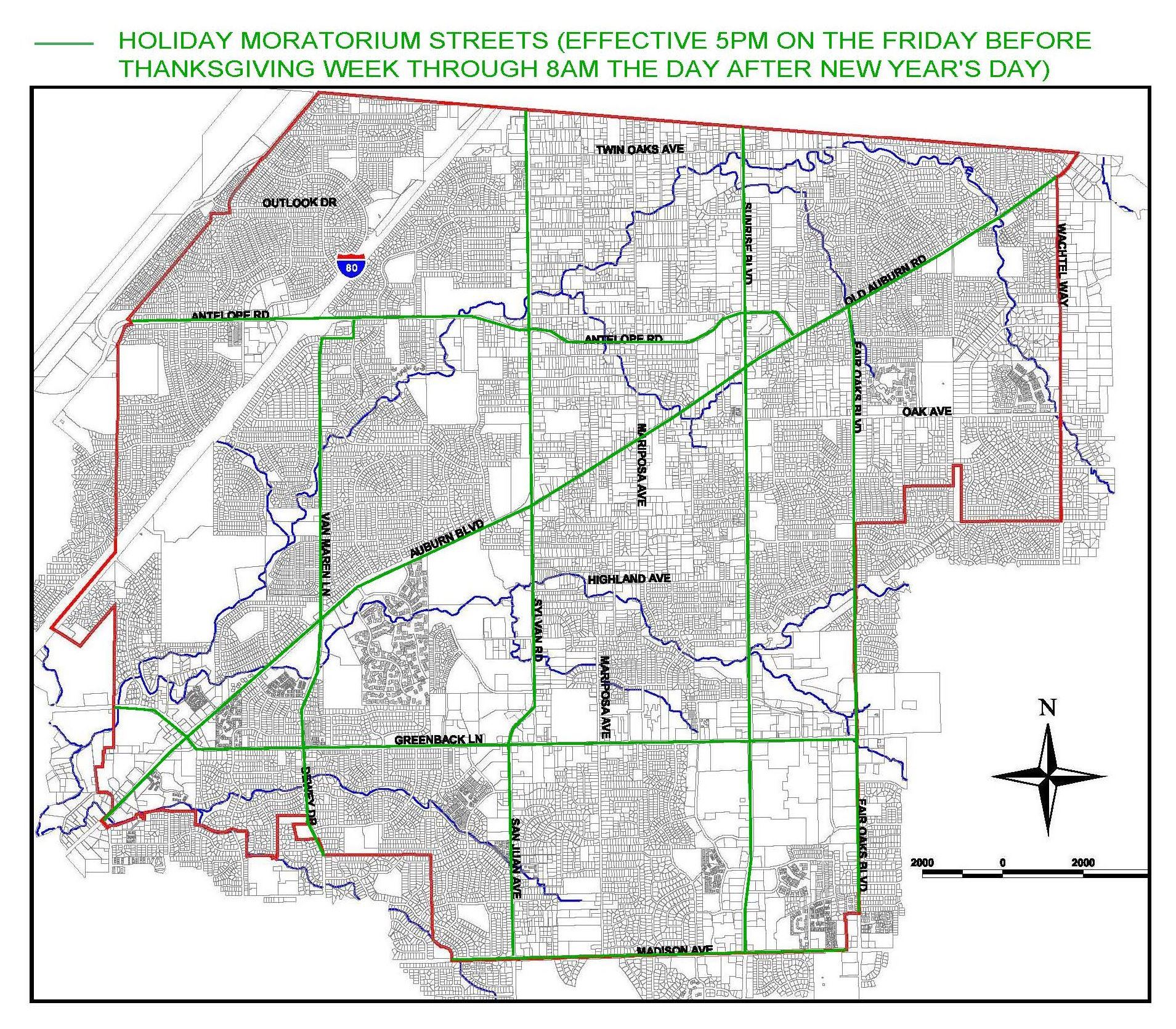 For more information, please contact the General Services Dept. at (916) 727-4770.
Last updated: November 22, 2019