Mandatory Residential Organics Recycling
Mandatory Residential Organics Recycling
ORGANIC RECYCLING IS HERE!
The Citrus Heights Residential Organics Recycling Program is now in effect. The Green Waste cart is now the green Organic Waste cart. Food scraps, food soiled paper items, AND yard waste go into the green Organic Waste cart. The organics cart is now on a weekly service schedule

.
Recycle Schedule: The city now has an A and B week blue Recycling cart collection schedule. Check the
online calendar
tool to see which week your blue Recycling cart is serviced.
Recycling Organic Waste
The City of Citrus Heights is currently developing its residential organics recycling program to be in compliance with the new statewide organics recycling mandate (SB 1383). Information on food waste for businesses and commercial compliance can be found here.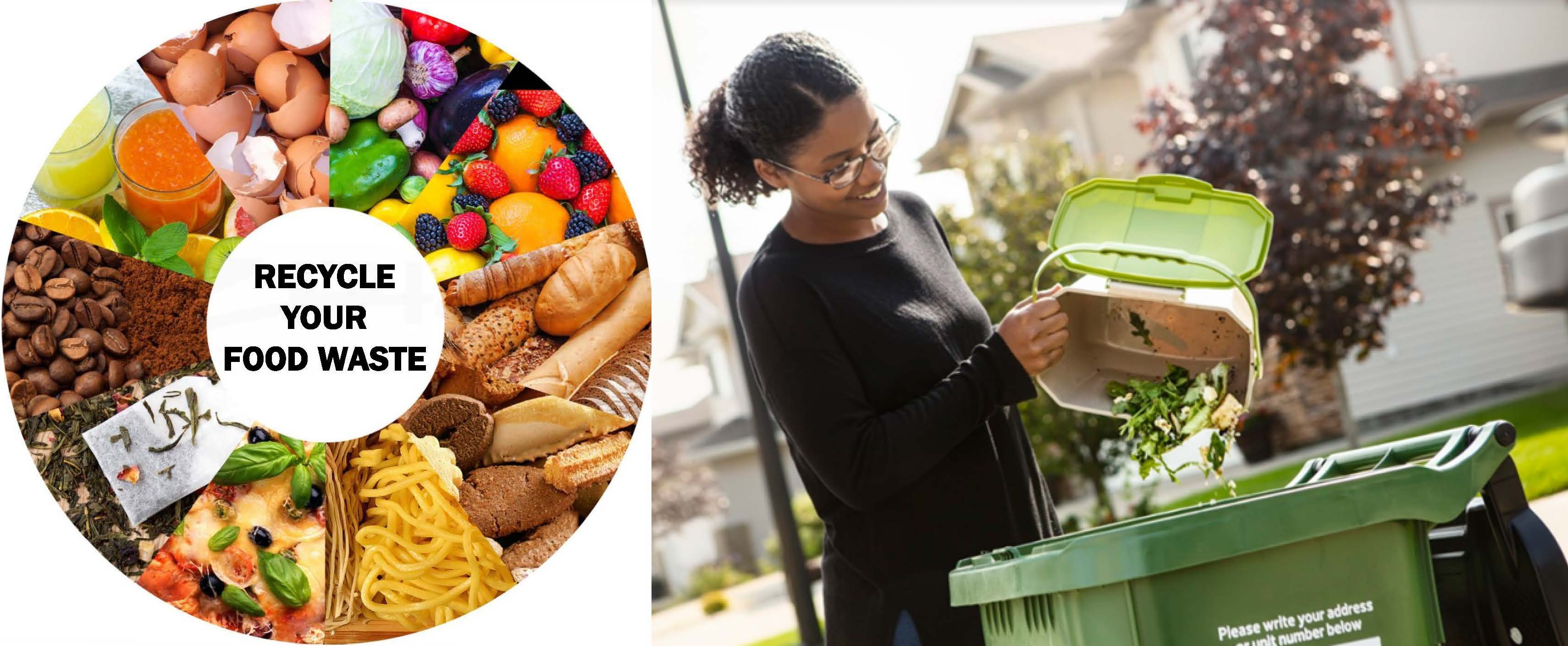 What is SB 1383?
In September 2016, Governor Brown signed into law SB 1383, establishing methane emissions reduction targets in a statewide effort to reduce emissions of short-lived climate pollutants (SLCP) in various sectors of California's economy. SB 1383 establishes targets to achieve a 50 percent reduction in the level of the statewide disposal of organic waste from the 2014 level by 2020 and a 75 percent reduction by 2025.
Methane emissions resulting from the decomposition of organic waste in landfills are a significant source of greenhouse gas (GHG) emissions contributing to global climate change. Food waste alone accounts for approximately 17-18 percent of total landfill disposal. Increasing food waste prevention, encouraging edible food rescue, and expanding the composting and diversion of organic waste throughout the state will help reduce methane emissions from California's landfills.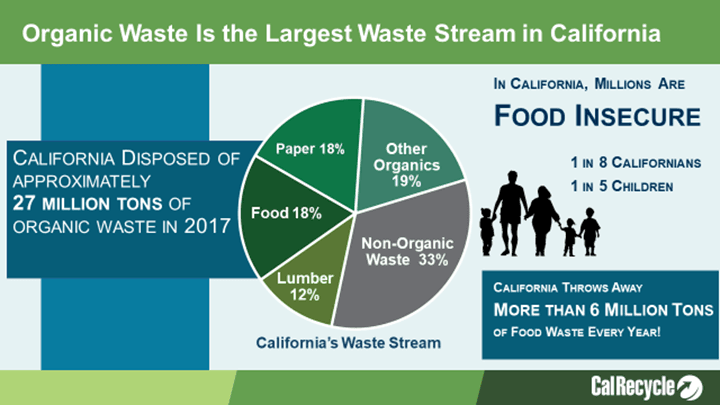 Statewide Timeline
July 1, 2020 - CalRecycle begins analyzing the progress that the waste sector, state governments, and local governments have made in regards to achieving organic waste reduction targets for 2020 and 2025. Upon conclusion of this analysis, CalRecycle may include incentives or additional requirements in the regulations to facilitate progress toward achieving the organic disposal reduction targets.
July 1, 2021 - Businesses in Sacramento must meet state mandates for diverting recyclables and organic material.
January 1, 2022 - CalRecycle's regulations to meet the organic waste reduction targets for 2020 and 2025 take effect and are enforceable on this date.
January 1, 2024 - CalRecycle may require local jurisdictions to impose penalties for non-compliance on regulated entities subject to their authority.
January 1, 2025 - By this date, the state must achieve a 75% reduction in the level of statewide disposal of organic waste from the 2014 level. In addition, not less than 20 percent of currently disposed edible food must be recovered for human consumption.
Who is Affected?
The new organic waste law affects all Californians, including single- and multi-family homes, commercial entities, and schools. The City of Citrus Heights will launch its organics recycling program for residents in July 4, 2022. If you would like more information, you can watch this short video or visit this website.
Methods for Prevention
In addition to curbside collection of organic waste, we can all make a difference - such as preventing excess food waste or taking steps to keep food waste and other organic materials out of our landfills. Find tips for more purposeful shopping, cooking, and food storage techniques here. Composting at home is also a great option.
Page last updated June 22, 2022.